How to Produce High Quality Water Soluble NPK Fertilizer?
water soluble fertilizer is a best quick action npk fertilizer, it is fast water solubility, water soluble fertilizer can completely dissolved in water without any residue, the water soluble npk fertilizer can be absorbed and applicated directly by root system and foliage of the plant. The absorption and utilization rate can reach more than 98%. therefore, the water soluble fertilizer is very welcomed in market, it meets the high needs of quick yielding crops in rapid growth stage.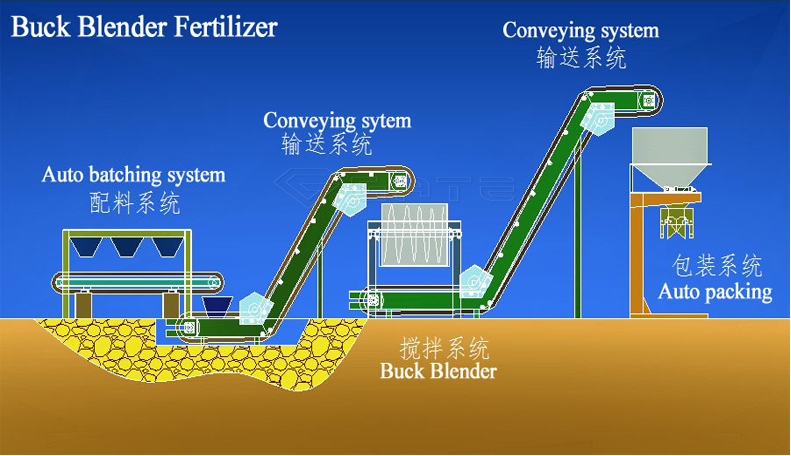 GATE is a leading manufacturer of fertilizer machine for producing high quality water soluble fertilizer, we can provide technical support and design solution for whole npk water soluble fertilizer production line. Follow us for the water soluble NPK fertilizer production process.

Production Process of Water Soluble NPK Fertilizer Plant
Water soluble fertilizer plant is is new type and highly demanded npk fertilizer production line, the manufacturing process of water soluble fertilizer mainly includes the raw materials batching, fertilizer mixer, conveyor, and packing machine. We can provide various production capacities of water soluble fertilizer production plant from 1 ton/hr to 50 ton/hr. Use our technology and fertilizer machines, you can produce high grade water soluble npk fertilizer.
Firstly, 3-10 raw materials are proportioned as per the formula by the 3-10 bins automatic batching machine, this batching machine can complete materials weighing and batching automatically with high accuracy and high efficiency, thus the quality of the fertilizer is ensured. After batching, the materials are conveyed to the mixer Machine.
We adopt automatic and continuous mixer machine in this npk water soluble fertilizer production line. we have horizontal mixer machine, double paddle mixer machine, rotary drum mixer machine, pan mixer, and ribbon mixer machine for customers' choice. The cycloidal reducer drives the main shaft to rotate, and in turn drives the agitating spiral/screw. With the stirring of agitating screw and small shovels on them, the raw materials are fully mixed. After mixing, the materials are discharged from the outlet at the bottom. The inner side of the mixer can adopts polypropylene plate or stainless steel, which makes the materials not easily sticky, and abrasion resistance.

after mixing, the water soluble fertilizer are weighed and packed into bags by the automatic packing machine. The unit consists of automatic weighing and packing machine, conveying device, sealing device and feeder.