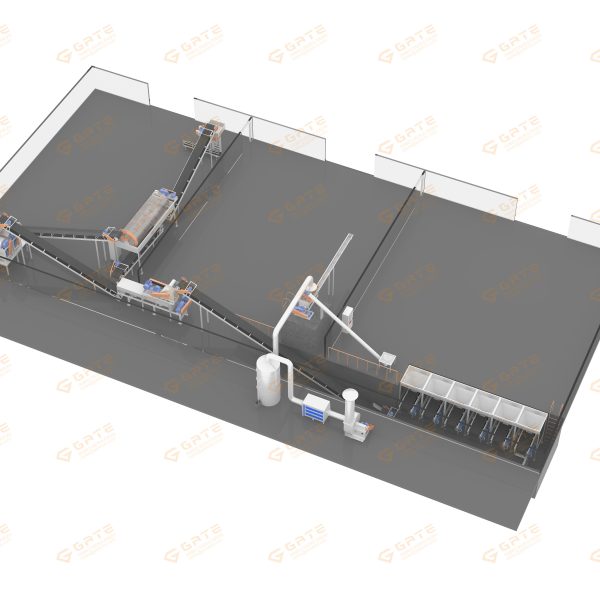 Compound Fertilizer Production Line
npk compound fertilizer production line or compound fertilizer production plant can sue various kind of raw material like Urea, DAP, MOP, KCL,TSP, SSP, ammonium sulphate, phosphate, gypsum, lime, or other organic or inorganic materials. compound fertilizer manufacturing plant is used for producing compound fertilizer, Capacity: 1-50 ton/hour compound fertilizer production process Application: compound fertilizer plant,npk compound fertilizer machine, Advantage of fertilizer granulation plant for sale: no drying granulation, low investment, large capacity, high automation, high granulating ratio, low energy consumption, friendly environmental protection
Get price
Send us
Introduction of Compound Fertilizer Production Line
Compound fertilizer production line is mainly used for producing compound fertilizer. The line adopts double roller granulator which has large capacity for fertilizer granulation, and no need drying, having small investment and low power consumption. The double rollers of the compound fertilizer granulator machine can be designed to make different shapes and sizes of materials.
https://www.youtube.com/watch?v=BSQLEKeV43w
Composition of Compound Fertilizer production Line
The compound fertilizer manufacturing plant include automatic batching machine, mixer machine, double roller granulator or rotary drum granulator, belt conveyor, rotary dryer, rotary cooler, rotary screen, rotary drum coating machine, automatic packing machine and chain crusher. We provide complete sets of equipment for compound fertilizer production and solutions for our esteemed customers!

Product name
Machine parameters
Speed
Dynamic batching System
PVC drive belt: width 0.5m, length 2m
1.1-2.2KW
SBD series reducer
1450r/min
Bucket Elevator
Maximum feeding size: 25-55cm
Hopper width: 160-400mm
Bucker type Q/H: 12/22 m3/h
1.4m/h
Vertical Crusher
1-12t/h
7.5-37KW
Crushing fineness:
0.5-5mm
1450r/min
Double shaft Mixer
6-22t/h
18.5-22KW
4950*1650*800mm
1450r/min
Rotary Drum Granulator
1-20t/h
1-30KW
11r/min
1450r/min
Rotary Drum Drying Machine
1-25t/h
5.5-22KW
5r/min
1450r/min
Rotary Drum Cooling Machine
1-20t/h
5.5-22KW
5r/min
1450r/min
Rotary Screen Machine
1-23t/h
3-7.5KW
ZQ series reducer
1450r/min
Rotary Coating Machine
5-15t/h
7.5-15KW
11r/min
1450r/min
Double Station Packing Machine
10-20 bags/min
Power current: 4/16 KW/\A
1600*1200*3200mm
50Hz/60Hz/220V/380V
Application of Compound Fertilizer Production Line Price
1. Double roller granulator adopts strong mechanical pressure to from the granules, no need to hear or humidify raw materials.
2. Suitable for heat sensitive materials, such as ammonium bicarbonate
3. No need for drying process, low investment, low power consumption.
4.No waste water or waste gas emission, no environmental pollution.
5. Uniform particle size distribution, no segregation and agglomeration.
6. Compact layout, advanced technology, stable operation, easy maintenance.
7. Wide raw materials application range, no special  properties requirement.

We have taken full consideration of user experience when designing and manufacturing fertilizer machines.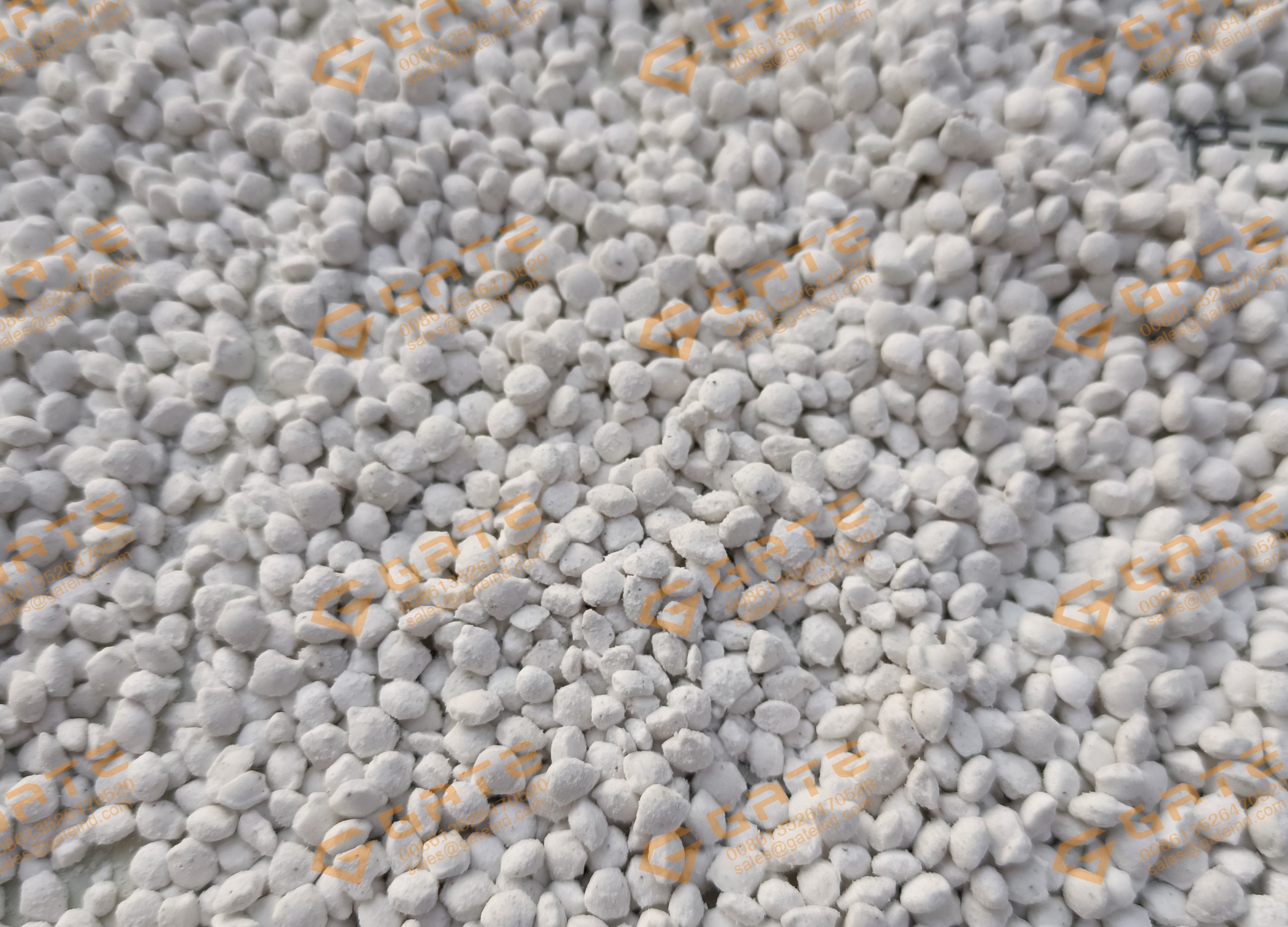 Process of Compound Fertilizer Production Process 
1.Automatic batching machine for compound fertilizer production line

Firstly, various materials are proportioned as per the formula by the 4-10 bins batching machine, which can complete materials batching automatically with high accuracy and high efficiency, thus the quality of the fertilizer is ensured. After batching, the materials are conveyed to the  mixer Machine.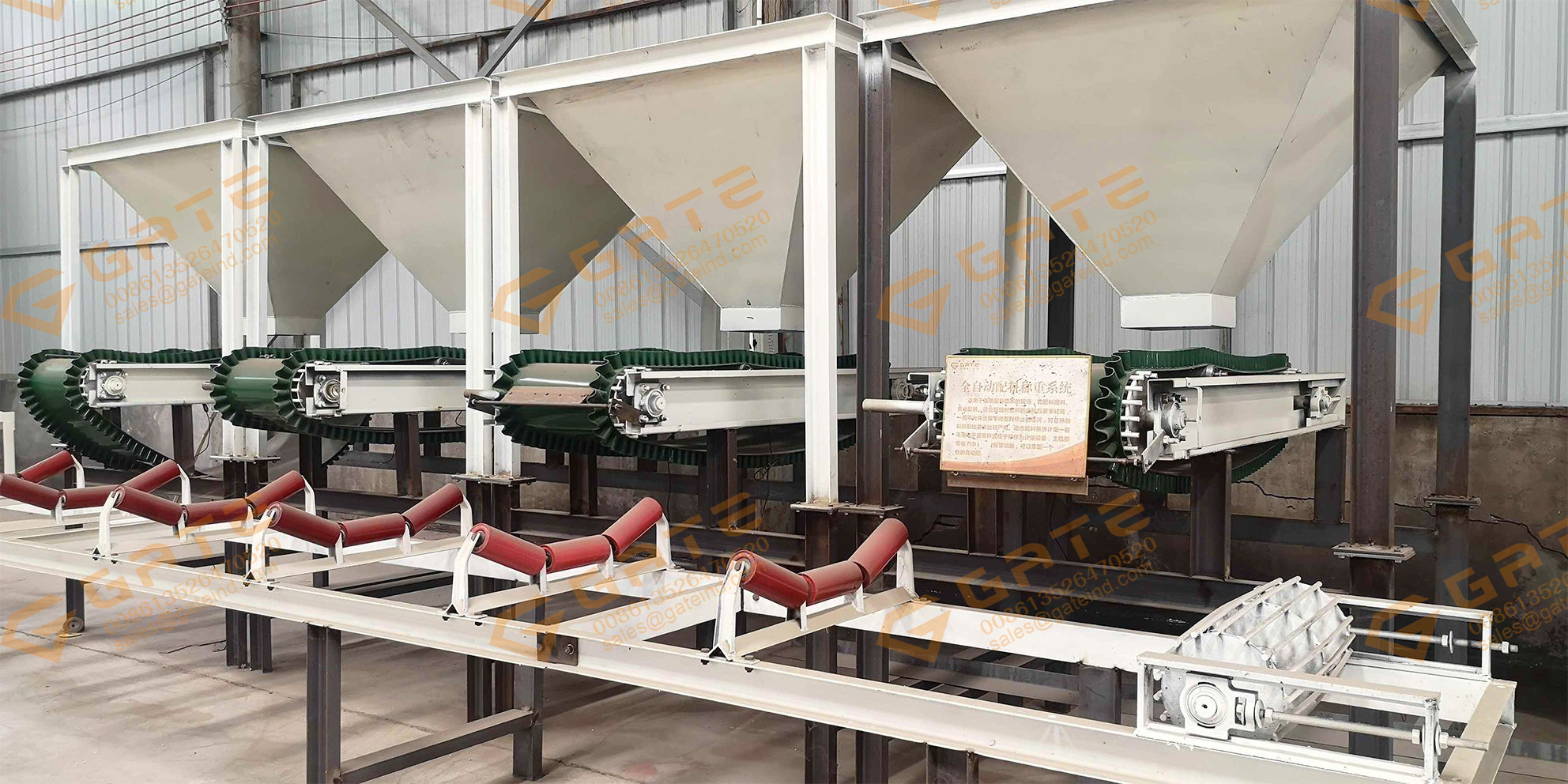 2. Mixer machine for compound fertilizer manufacturing process

We adopt automatic and continuous mixer machine in this compound fertilizer production line. The cycloidal reducer drives the main shaft to rotate, and in turn drives the agitating spiral/screw. With the stirring of agitating screw and small shovels on them, the raw materials are fully mixed. The inner side of the mixer can adopts polypropylene plate or stainless steel, which makes the materials not easily sticky, and abrasion resistance.

3. Double roller press granulator  for compound fertilizer production line

By the belt conveyor, the well mixed raw materials are conveyed to the pan feeder, which feeds the materials evenly into the four roller granulator under the feeder through the hopper. By the counter-rotating high pressure rollers, the materials are extruded into slices. The slices flow down to the crushing chamber under the press roller, where they are crushed by the crushing rollers and screened to get the required granular. The press rollers adopt new type metal which is resistant to corrosion, wear and impact.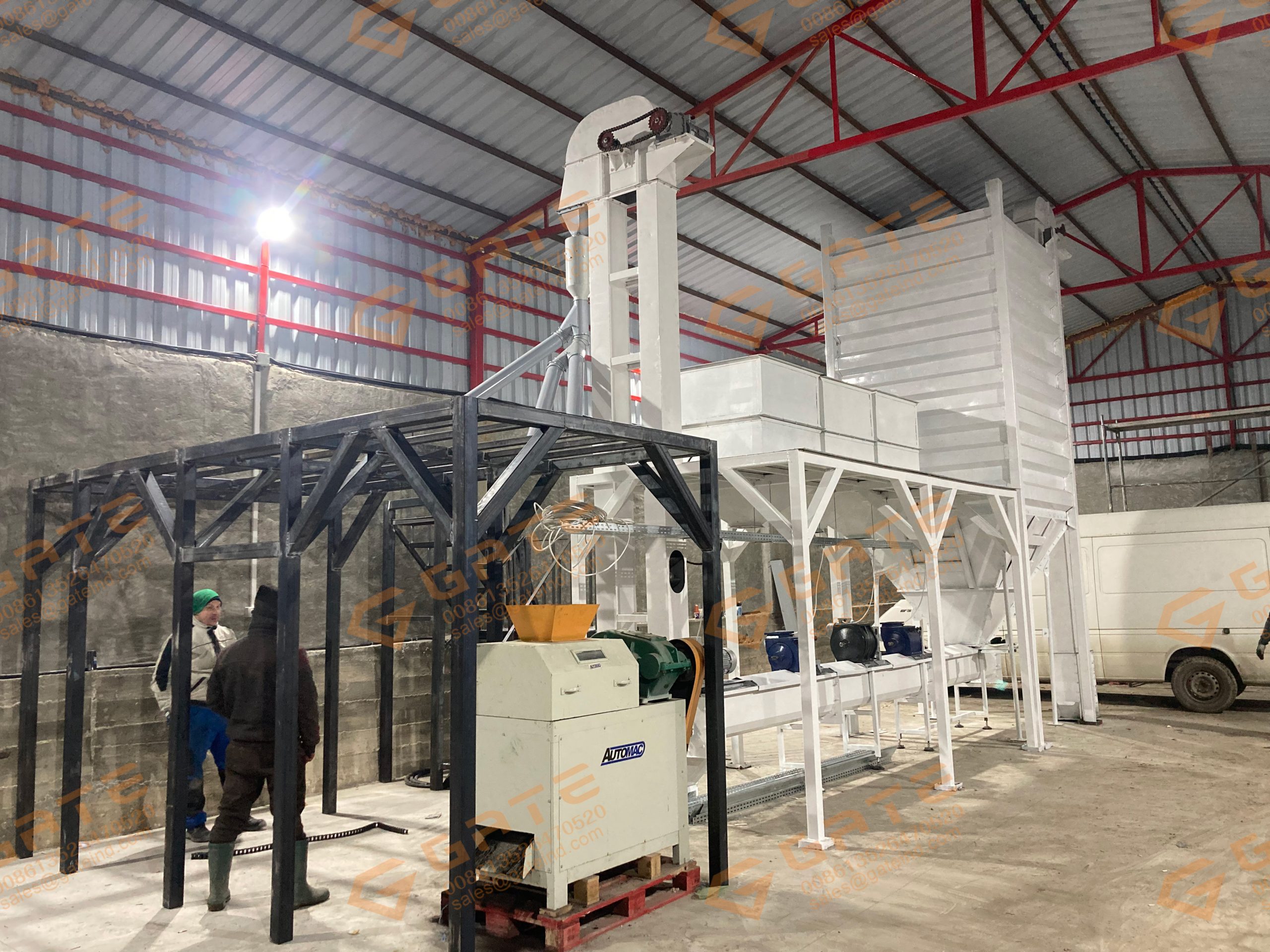 4. Rotary screening machine for compound fertilizer production line

By the belt conveyor, the granules from the double roller granulator are sent to the rotary screening machine, where unqualified granules pass through the screen aperture and discharge through the outlet at the bottom, then conveyed back to the pan feeder, while qualified granules flow out through the outlet at the lower end of the machine and conveyed to the finished products warehouse.

5. Automatic packing machine for compound fertilizer production line

Through the finished products warehouse, the qualified granules are weighed and packed by the automatic packing machine. The unit consists of automatic weighing and packing machine, conveying device, sealing device and feeder. It has the features of high weighing precision, stable operation, low power consumption, and small land occupancy.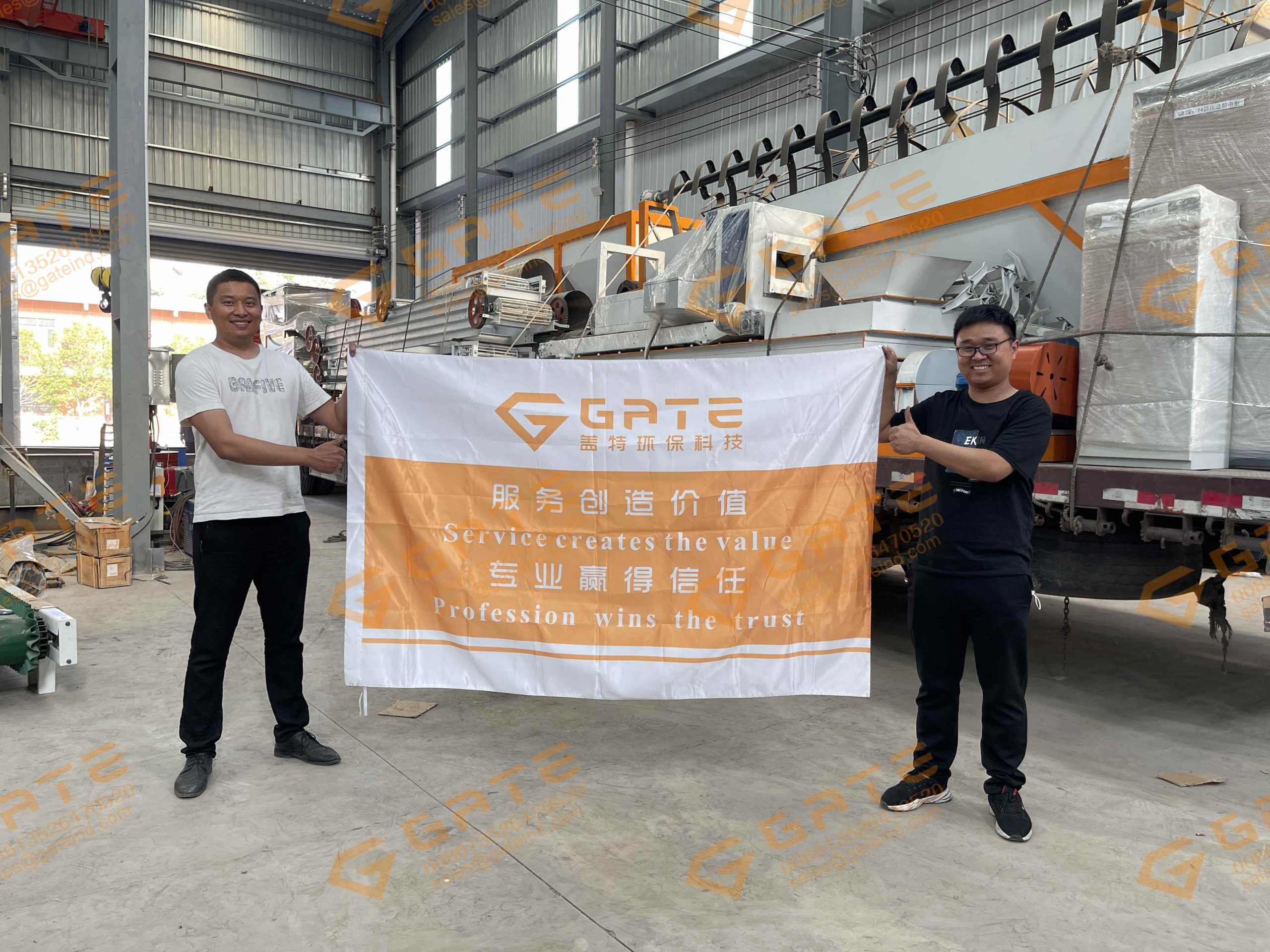 If you have any other special requirements, please contact us for customization!