How to build one NPK compound fertilizer factory ?
What is the most popular fertilizers in the world? 90% farmers will choose NPK compound fertilizers because of its high NPK content and the supplement to the soil. NPK compound fertilizer will increase the plant to grow fast and supply the required elements the plants needs. Related to the demand in the market, to start one NPK fertilizer factory will bring more benefits. But how to build ? What machines should choose ? This article will bring more information about the new designed dry type compound fertilizer plant line.

Plant Line Introduction
This plant line is normally used to process compound fertilizers. Raw materials can be DAP, SOP, KCL, Phosphogypsum, Ammonium sulphate, MOP and some other NPK materials.
The reason why we call this line as dry type or non-drying compound fertilizer production line is because roll extrusion technology is adopted. In granulation process, double roller extrusion granulator machine is used, therefore, the moisture content of raw materials should be under 6% and no need adding water in the whole granulation procedure. That is the special character of Extrusion Technology.
Capacity: 5-8 tons per hour
Environmental Requirements
1.Near to raw materials supporting place
2.Convenient transportation
3.Fertilizer plant line should be away from residential areas
4.Compound fertilizer plant line should be placed in the downwind place
5.Away from river and lake headwater
Prepare Works before Dry Type Fertilizer Plant Installation
1.Proper formulation ( refer to the market/ lab provide)
2.Raw materials supplier confirm
3.Adequate capital flows
4.Production licence, governmental approval acquire
5.Enough water and support electric
6.Factory civil construction
7.Workers
Fertilizer Plant Line Machines:
1.Automatic Batch Scale : 4 rooms
2.Belt Conveyor : B60*8m
3.Belt Conveyor : B60*12m
4.Flat Pan Mixer Machine : PW2000
5.Belt Conveyor : B60*14m
6.Double Roller Fertilizer Granulator : JZ-2T
7.Belt Conveyor : B60*4m
8.Screen Machine : GS1560
9.Belt Conveyor : B60*11m
10.Product Bin : 2m³
11.Packing Machine : 50k (5-50kg)
12.Backing Belt Conveyor : B60*9m
13.Electric Cabinet
Plant Line CAD Drawing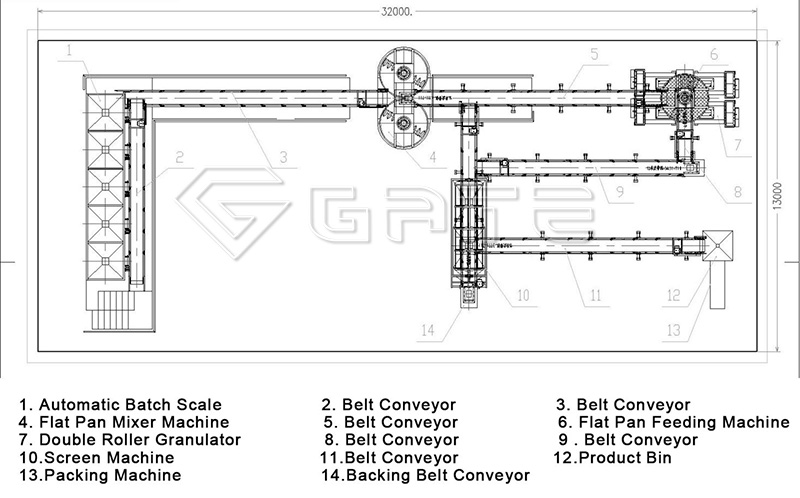 3D Drawing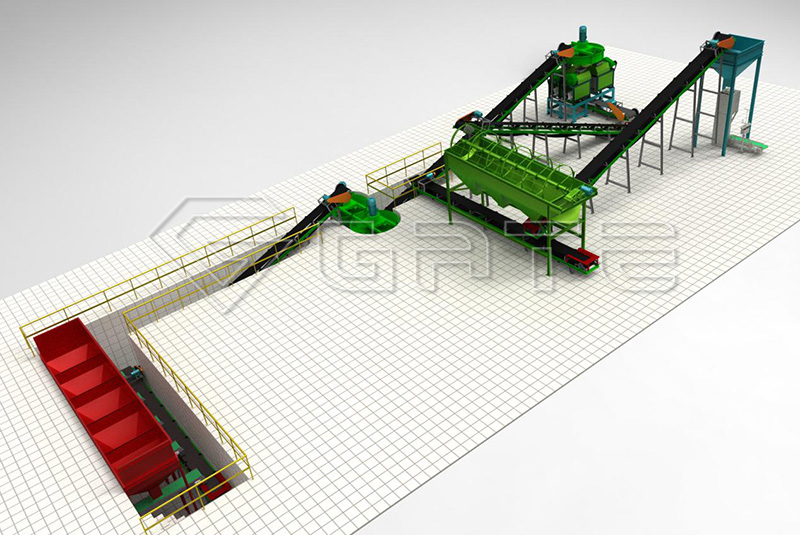 Machine Function and Worker Required
| | | | |
| --- | --- | --- | --- |
| No | Machine Description | Function | Worker Number |
| 1 | Automatic Batch Scale for sale | Materials scale and load with ratio | 2 workers |
| 2 | Belt Conveyor Suppliers | Materials Transport | |
| 3 | Factory Supply Flat Pan Mixer Machine | Materials Mixing | 1 worker |
| 4 | Double Roller Granulator Machine Price | Materials pressing and granulating | 1 worker |
| 5 | Screen Machine for Sale | Final products screen and separate | |
| 6 | Packing Machine Supplier | Weighing, packing and sealing | 2 workers |
| 7 | Product Bin Price | Product store | |
Working Steps
1.Automatic Batch Scale
All the 4 raw material bins are individually equipped with Automatic Belt Batching Scales for weighing and releasing the specified material quantity from each bin.Now, quantity/ weight % for each material bin will be specified (typed) on a Computer.
Belt Batching Scales will receive order from Computer, and release ordered quantity for each item on to the Belt Batching Conveyors (total 4 nos. conveyors).  There are airlock valves on every bin; and after releasing measured quantity the airlock valve on each bin will get closed.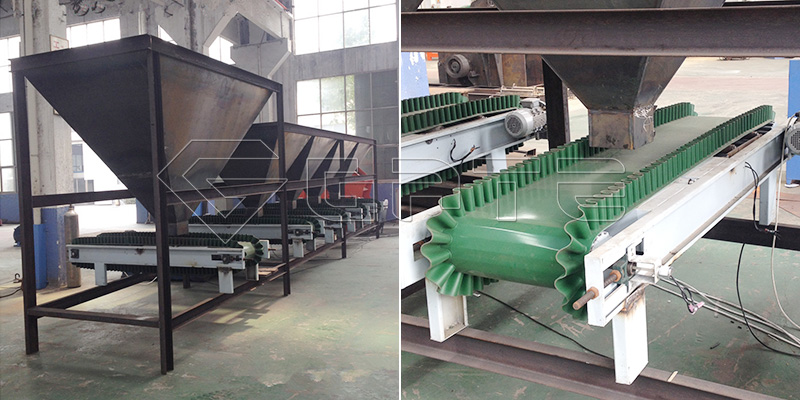 2 & 3 Belt Conveyor
These 4 nos. Belt Batching Conveyors will drop the raw materials over ONE separate common conveyor. This conveyor will take all the 4 items to the flat pan mixer machine

4.Flat Pan Mixer
Materials from conveyor will be into the mixer. This mixer is not continuous working. When one is mixing, the other is loading materials. 1.5t per batch,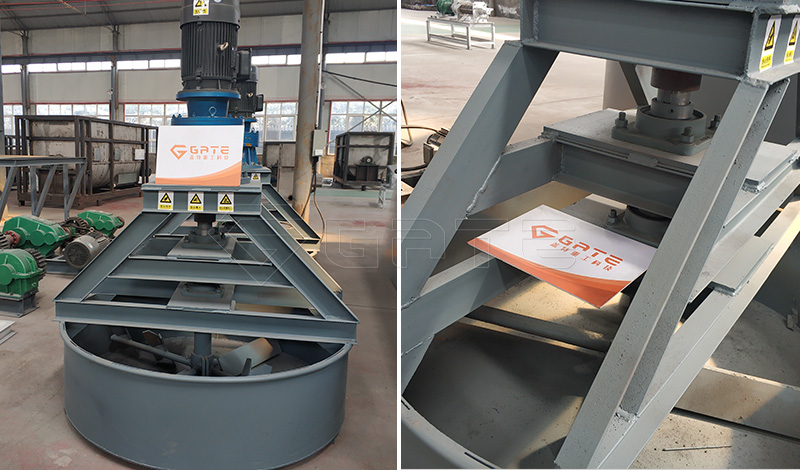 5&6. Belt Conveyor and Feeding Machine
Materials will be transported to the top of granulator machine by belt conveyor. Because there are four granulators, so one feeding machine will divide materials.

7.Double Roller Fertilizer Granulator Machine
Flat Pan Feeding Machine will now feed the mixture to Double Roller Fertilizer Granulator, final products from machine will be 3.5-5mm, size can be changed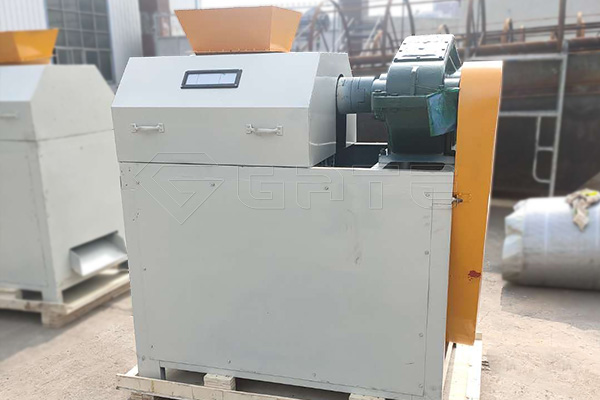 8&9.Belt Conveyor
Transport products to the screen machine

10.Screen Machine
There are three outlets in this machine:
a) Powder size fertilizer will download on the conveyor and then back to the granulator.
b) Reject material from the Screen will be recycled/ sent back to the Double Roller Granulator through Flat Pan Feeding machine by using a Backing Belt Conveyor.
c)Good shaped balls/ granules will be sent from Screen to Packing machine by a Conveyor.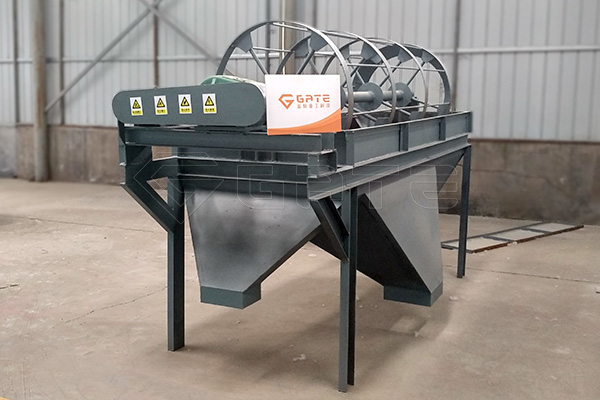 11.Belt Conveyor
Transport fine good granules to packing machine

12.Packing Machine
Fine granules will be loaded into the product bin, then will be in packing. Just set data in the screen to confirm bag weight, then it will help weigh materials under setting. One worker should be here to provide the bags and the other is to seal the bags.
Common plant failures and resolve methods:
1.how to install ?
A: Single machine can be installed with machine working manual and then connect electric with all the machines by finding one electrician.
Or if you have difficulties in installation, Generally speaking, we can arrange three engineers to your place to help you install the plants and training your workers. Buyer should response for USD 100 per person per day, buyer response for a round trip ticket and accommodation, help to transact the visa, provide meal and rest rooms. For the project, we advise customer buy the installation materials in your local market, thus can be convient for shipping and low cost. Whole installation and training days will be 15 days.
2.How to guarantee?
The main body(not included the motor and wear parts) guarantee is one year. During the gurantee period, if the main body defective as the bad quality without any workers wrong operation, Henan Gate Heavy Industry Machinery Technology Company Limited should replace the parts for free or prepare the goods for free.
For spare parts, we will send you one pair for free and for longer using, we will provide spare parts list with lowest price from our factory. Then you can purchase from us when you need.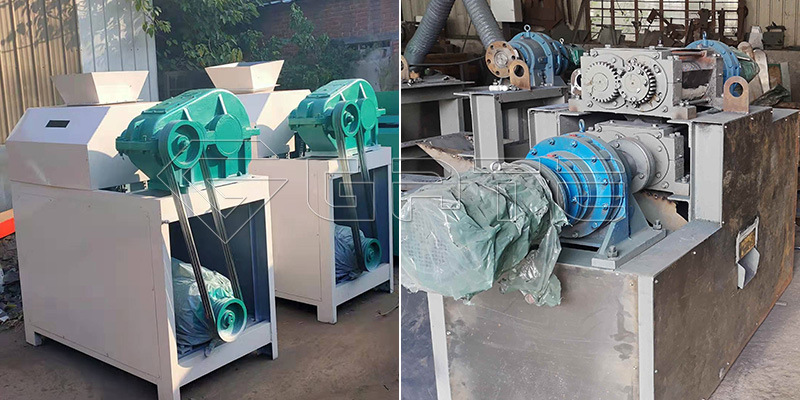 3.Machine Maintain
We will show you installation manual of every machine for using and maintain. Just need to do as what we show, then you can deal with the common problem.
Of course, we will be in line to help you with videos and suggestions.